Farewell to Martha
Greetings, Time sure has flown by. My time as a social work intern at the California Homeless Youth Project (HYP) has come to an end. I have to thank the researchers at the California Research Bureau and, UC Berkeley, and UC San Francisco. I have been so lucky to work alongside such experts who not only provided guidance, but provided support and encouragement regarding my writing capability. My...
On the Horizon – A New Brief on Immigration Status...
The project is proud to announce that our Consultant, Jimmy Ramirez, is currently working on a policy brief on the intersection of youth homelessness and immigration status. Through our review of the literature, we've learned that undocumented youth and the  children of undocumented immigrants are at risk of homelessness for a number of reasons. (Photo Credit: Kent Lacin) Immigration status has...
8 tags
Social Workers Care about Homeless Youth
I am still excited about my experience last week. Why you ask? Last week I had the privilege to present on behalf of the CA Homeless Youth Project (HYP) to the Social Work Student Association (SWSA), a student organization at California State University, Sacramento. Youth homelessness is such a huge issue that intersects with several issues relating to the social work profession (poverty,...
California Can't Afford to Have Youth Missing from...
The California Homeless Youth Project released a new report at the Housing California conference yesterday alongside researchers and members of the United States Interagency Council on Homelessness. Hidden in Plain Sight: An Assessment of Youth Inclusion in Point-in-Time Counts of California's Unsheltered Homeless Population  highlights best practices for counting unaccompanied minors and...
The Project goes on MSNBC to discuss Youth...
I was recently honored to receive an invitation from Melissa Harris-Perry to be on her MSNBC show to discuss the issue of youth homelessness and more importantly to discuss the recent inclusion of  youth age 18 to 24 in HUD's Point-in-Time (PIT) Count this year. When I arrived to the DC studio, I was escorted into the green room, where I anxiously waited. I was greeted by the camera operator,...
6 tags
California Legislative Bill Digest
In these first few months of the new two-year legislative session, California lawmakers have introduced a number of bills related to youth homelessness. Listed below are nine proposed bills that aim to address youth homelessness primarily as it relates to educational services, involvement with the child welfare system, and access to safety net programs. Senate Bill SB 177: Homeless Youth...
5 tags
More Than a Roof: State Action Plan Release...
   Nearly 50 community members, policymakers, and advocates came to the State Capitol last week to see Senator Carol Liu host an informative press conference to release our new State Action Plan, "More Than a Roof: How California Can End Youth Homelessness". Our report identifies 10 main subject areas addressing the needs of homeless youth (prevention, education, employment, supportive services,...
5 tags
4 tags
Educate Youth & Parents' Rights Under McKinney...
On November 15, I had the honor of attending the "Spotlight on Youth Homelessness" a panel discussion presented by The DC Alliance of Youth Advocates. This panel discussed the issue of youth homelessness in the context of Washington DC and included experts from community based organizations, government agencies, and the DC public school system. One of the most impressionable moments from the panel...
6 tags
5 tags
Jobs for Youth with Criminal Records
Earlier this month I attended "From Jails to Jobs! How to Help Youth with Criminal Records Get Jobs" a training in Oakland, Ca. The training was hosted by the Alameda County Foster Youth Alliance and presented by Larry Robbins, a well-rounded expert of at-risk youth and employment. The attendees at this training were representatives from various social service programs throughout California who...
Testimony on the State-Wide Plan to End Youth...
On October 4, HYP Director Shahera Hyatt was invited to present More Than Just a Roof, the first ever California Statewide Plan to End Youth Homelessness, to the California State Assembly Select Committee on Homelessness. The hearing took place in San Francisco where Ms. Hyatt presented alongside other distinguished colleagues in the field of youth homelessness. Below is the testimony provided by...
4 tags
Sexual Exploitation in California
What's Happening Now? On September 24th Governor Brown signed a series of bills to protect victims of domestic violence, child abuse, and human trafficking. SB1133, AB 2466, & SB 1193 are the bills that aim to curb human trafficking. SB1133 will expand the list of assets that are subject to forfeiture upon conviction of a human trafficking sex crime. AB2466 will allow courts to "seize...
UPDATE: State-Wide Plan to End Youth Homelessness
It brings me great pleasure to officially announce a new project that the California Homeless Youth Project has been working on for the past couple months.   We have been developing the first ever state-wide plan to end youth homelessness in California. The project has been working closely with service providers across the state, government agencies, policymakers and the best literature out there...
8 tags
California State Policies Concerning Homeless...
Last week the National Law Center on Homelessness & Poverty (NLCHP)released "Alone without a Home," a report that focused on the legal rights of homeless youth concerning health care and social services. According to the report, youth experience homelessness for numerous reasons and struggle with having their needs met; this is partly due to policies and procedure of state law. This is...
Welcome a new member of CA Homeless Youth Project!
Hello all, My name is Martha Gonzales. I am a graduate student from the division of Social Work at Sacramento State, and today is my first day interning at the California Homeless Youth Project. I received my Bachelor's degree in Social Work at Sacramento State. For the past two years I have gained experience working as a social worker with both homeless and foster youth. I have seen and heard...
Become a THP+Foster Care Provider!
On behalf of the Homeless Youth Capacity Building Project, we would like to share with you an exciting opportunity to serve youth who, prior to the passage of Assembly Bill 12, were aging out of the foster care system with nowhere to go and ending up in your shelters, drop-in centers and housing programs, unprepared for the world that awaited them. As many of you know, as a result of AB 12, youth...
More Than Just a Roof: The Importance of Youth...
Yesterday I was reminded of the influence the class had on me by a program that the Leadership class puts on each year: Boot Camp. Boot camp is Freedom High School's (FHS) own unique program that orientates the incoming freshmen. I was blessed enough to be invited back as the kick off speaker for the incoming 700 freshmen and share with them what helped me succeed. All I could speak of was the...
9 tags
Data & Ending Youth Homelessness
The most prominent theme that we observed at the National Alliance to End Homelessness Conference was the need for consistent and better data. In every workshop, this theme echoed as presenters urged service providers to get involved with their local Continuum of Care (CoC). As part of our blog series on lessons learned from the conference, we write about the importance of data and how you can get...
11 tags
Welcoming LGBTQ Homeless Youth Into Supportive...
Last week, I was lucky enough to attend the National Alliance to End Homelessness's conference on ending homelessness in Washington DC. I left this conference with so many innovative strategies that we at the HYP feel it is necessary to communicate them. This will be the first in a series featuring themes we heard at the conference about serving homeless youth. The workshop,"Welcoming,...
Canadian & U.S. Perspective on Homeless Youth
In their policy report, "Ending Youth Homelessness: A CHRA Policy Position Statement", the Canadian Housing and Renewal Association emphasize the country's need to tackle their homeless youth problem. The report highlights a rise in homeless youth and provides policy recommendations on how to prevent and remedy youth homelessness. Both the United States and Canada can learn from each...
The Family Acceptance Project
The California Homeless Youth Project would like to congratulate The Family Acceptance Project on their recent recognition as the "Best Practice" resource for Suicide Prevention for lesbian, gay, bisexual and transgender (LGBT) youth by the National Best Practices Registry. The Family Acceptance Project is an initiative that aims to prevent various risks associated with LGBT youth such as suicide,...
1 tag
"One of the themes that came up repeatedly during yesterday's broadcast..."
– Shahera Hyatt, Director of the California Homeless Youth Project (in response to the USICH presentation of the Framework to End Youth Homelessness)
USICH Framework to End Youth Homelessness: 3...
Yesterday, The United States Interagency Council on Homelessness held a live stream panel meeting that presented the federal plan, Opening Doors, renewed framework to end youth homelessness by 2020. The panel was chaired by Secretary Kathleen Sebellius and included: Nan Roman (President and CEO of the National alliance to End Homelessness), Dana Scott (Colorado State Coordinator for Homeless...
6 tags
Come Together, Right Now. Over Youth.
In our 2008 report, Voices from the Street: A Survey of Homeless Youth by Their Peers, the number one recommendation we heard from youth was to undo the criminalization of homelessness, which they saw as exacerbating their housing instability. So it struck me when today, our Twitter timeline was filled with tweets that linked to the recent article by USA Today,  "Cities' homeless...
3 tags
Employing Homeless Youth
Yesterday, we at the HYP attended "Vocationalizing Youth Services", a regional training hosted by the Homeless Youth Capacity Building Project and facilitated by Larry Robbin, an expert in the field of job services. Prior to this training I had a strong conviction that education was the only means of obtaining stability for youth. This conviction was heavily influenced by my own...
Homeless Valedictorians
In a recent article by Marquise Brown, the high school senior from Chicago's Gary Comer College Prep tells his story about how he became homeless "one summer morning" and was still able to become his high school's Valedictorian. At a young age, Brown and his siblings lost their mother to substance abuse and grandmother to lung disease. Brown and his siblings were forced to live with his aunt, a...
Healing the Abused
In a recent  article for the Huffington post, Kevin Ryan, the President and CEO of Covenant House discusses the vulnerability of America's homeless youth and speaks to the lack of love and respect these children are receiving. The children Ryan speaks of are victims of circumstance and abuse. He details that nearly half of the young women that take solace in Covenant House in DC have...
Farewell to Kathryn
Hello all, today is my last day here at the California Homeless Youth Project. I have to say that I have had a wonderful time. I have had the opportunity to learn many different aspects of macro level social work through several experiences including research, writing, conferences, building relationships with other service providers, and last but not least this blog. I am sorry to be leaving this...
2 tags
Jamire-homeless in chicago →
This video features another great story filmed by Invisible People's Mark Horvath. Jamire is a 19 year old homeless youth who tells his story of being homeless in Chicago. Jamire has been homeless since he was 13 years old, never had his parents in his life, and turned to the streets to make a life for himself. Jamire is currently a senior in high school on his way to graduating this...
3 tags
Best practice for LGBT youth and families →
A newly recognized best practice called Supportive Families, Healthy Children, which educates families on how accepting their LGBT child can have a positive impact in their child's health. The Family Acceptance Project has found that youth who are accepted by their family are at a lower risk of suicidal thoughts, depression, HIV, drug use, and other health risks. This booklet can be used to...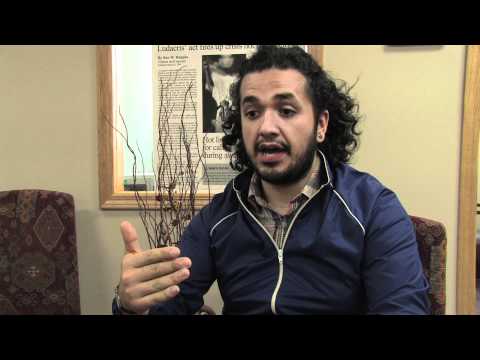 4 tags
New Issue Brief on Homeless Youth and Sexual...
We here at the California Homeless Youth Project are pleased to announce the release of our new issue brief, Sexual Exploitation and Homeless Youth in California: What Policymakers Need to Know. This special topic report discusses the intersection between homeless youth and sexual exploitation, highlights legislation in California directed at addressing the problem, and reviews efforts underway in...
3 tags
Including LGBT homeless youth in the Runaway and... →
The Center for American Progress recently released an article discussing the importance of inclusion for LGBT homeless youth in the upcoming revision of the Runaway and Homeless Youth Act in 2013. This is an important revision for the Act as LGBT homeless youth are overrepresented among homeless youth. This piece of legislation is a major vehicle in providing funding for homeless youth in three...
3 tags
Eating well when living well →
Eating well can be a challenge for youth experiencing homelessness. An article from youth radio highlights a homeless youth's experience of eating at fast food restaurants and training oneself to not eat at all. The youth describes a day after returning to live with her parents. She was not eating enough to the point of fainting from dehydration in school on her way to class. This youth...
3 tags
The impact of human trafficking on children and... →
The US Department of Education released an article discussing the impact that human trafficking has on schools. Schools are affected because trafficking involves school-aged children, some as young as 12 years old. The article discussed how to identify a victim of human trafficking. The victim may have unexcused absences from school, makes frequent references of traveling to other cities, lacks...
4 tags
Housing for Youth Aging out of Foster Care →
In April a report titled, Housing for Youth Aging Out of Foster Care,  was prepared for HUD. This report reviews housing needs and state and local housing programs for youth aging out of the foster care system. Barriers to achieving stable housing for youth identified were individual characteristics, child welfare system factors, and the housing market. Individual characteristics consisted of...
3 tags
Counting Homeless Youth - New Resource Page from... →
The National Alliance to End Homelessness (NAEH) has recently created a tab on their website to share resources on counting homeless youth. This is something that the CA Homeless Youth Project is passionate about too, as we work toward creating a toolkit to help Continuums of Care in California to better count homeless youth during their point-in-time counts. NAEH's website highlights a new...
5 tags
NAEH Releases LGBTQ Youth Policy Statement →
Lesbian, gay, bisexual and transgender (LGBT) homeless youth face particular challenges on the streets due to their sexual orientation or gender identity. The National Alliance to End Homelessness discusses these issues in their latest brief, LGBTQ Youth Policy Statement, and suggests policy solutions for addressing these challenges, which include:  -promoting a culturally competent approach to...
4 tags
Proposed Increase for McKinney-Vento Funding →
Yesterday, April 17, 2012, the US Senate Appropriations Subcommittee on Transportation, Housing and Urban Development, and related agencies voted on a draft proposal for fiscal year 2013 appropriations. The draft proposal includes funding for many affordable housing and homelessness assistance programs. The bill includes the largest one year increase in HUD's McKinney-Vento Homeless...
3 tags
CCY Taking Action Conference
On April 15-17th I attended the California Coalition for Youth's Taking Action conference. It was a great honor for me to be a part of this conference. While there I had the opportunity to meet and discuss various issues youth encounter with other service providers and youth. As I listened to Jevon Wilkes, the keynote speaker on Saturday, I felt very humbled to hear about his life as a child...
4 tags
Policy recommendations for decriminalizing... →
In our 2008 report, Voices from the Street: A Survey of Homeless Youth by their Peers, youth highlighted undoing the criminalization of homelessness as their number one policy recommendation. Of the youth who responded to our survey, 72 percent said they had interactions with the police, however, not one said that they went to the police for help. This is disheartening information for law...
5 tags
Cash for Kids week in LA
During the week of March 25-31st three restaurants and one high fashion boutique partnered together by participating in the first annual Los Angeles Youth Network's (LAYN) Cash for Kids week. The idea of this event was: the cash used to pay fees at the joining businesses were redirected and donated to LAYN. LAYN provides a variety of needs and services to homeless and runaway youth ages...
4 tags
Maryland's new "ready by 21" action plan →
With youth in mind the state of Maryland has developed an action plan to successfully prepare youth with knowledge and life skills needed to successfully live independently by the age of 21. The action plan is geared toward all youth, including homeless youth. What is unique about this action plan is that it lays out all of the steps under a particular service area and the departments that are...
3 tags
Act to change definition of homeless youth →
Currently children who are living in motels and couch surfing are not classified as homeless within HUD's definition. Meanwhile the Departments of Education, Justice, and Health and Human Services do classify those youth to be homeless. The Homeless Children and Youth Act, HR 32 would amend HUD's definition of homeless children and youth to include many that qualify for services and...
3 tags
HUD's new LGBT housing rule
Earlier this month, HUD published a final rule in the Federal Register entitled Equal Access to Housing in HUD Programs Regardless of Sexual Orientation or Gender Identity. The rule creates a new regulatory provision that generally prohibits considering a person's marital status, sexual orientation, or gender identity (a person's internal sense of being male or female) in making...